Route 66 Road Trip – Day 2 On The Road with The Carpetbagger and my724outdoors.com!
Today's sights include Pistol Shaped Building – Roadside Giants – Grave of the Real Life Dorothy – Henry's Rabbit Ranch and more!
U.S. Route 66 or U.S. Highway 66 (US 66 or Route 66), also known as the Will Rogers Highway, the Main Street of America or the Mother Road, was one of the original highways in the U.S. Highway System. US 66 was established on November 11, 1926, with road signs erected the following year.[4] The highway, which became one of the most famous roads in the United States, originally ran from Chicago, Illinois, through Missouri, Kansas, Oklahoma, Texas, New Mexico, and Arizona before terminating in Santa Monica in Los Angeles County, California, covering a total of 2,448 miles (3,940 km).[5] It was recognized in popular culture by both the hit song "(Get Your Kicks on) Route 66" and the Route 66 television series, which aired on CBS from 1960 to 1964. In John Steinbeck's classic American novel, The Grapes of Wrath (1939), the road "Highway 66" symbolized escape and loss.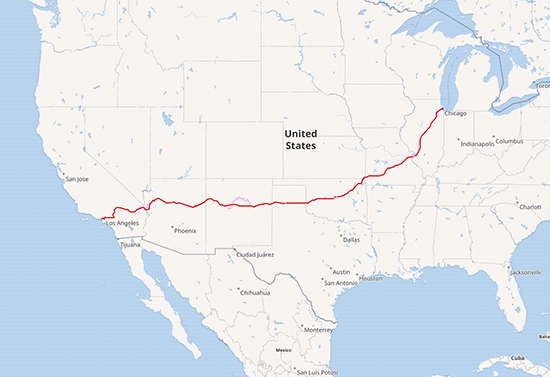 US Route 66 served as a primary route for those who migrated west, especially during the Dust Bowl of the 1930s, and the road supported the economies of the communities through which it passed. People doing business along the route became prosperous due to the growing popularity of the highway, and those same people later fought to keep the highway alive in the face of the growing threat of being bypassed by the new Interstate Highway System.
US 66 underwent many improvements and realignments over its lifetime, but was officially removed from the United States Highway System in 1985[2] after it had been replaced in its entirety by segments of the Interstate Highway System. Portions of the road that passed through Illinois, Missouri, New Mexico, and Arizona have been communally designated a National Scenic Byway by the name "Historic Route 66", returning the name to some maps.[6][7] Several states have adopted significant bypassed sections of the former US 66 into their state road networks as State Route 66. The corridor is also being redeveloped into U.S. Bicycle Route 66, a part of the United States Bicycle Route System that was developed in the 2010s.
MORE PFGFishing fun!
STINK BAIT for Crappie? NOPE!
Southern Illinois camping and fishing trip
Some More Camper Reviews!
MORE PFGFishing fun!
STINK BAIT for Crappie? NOPE!
Southern Illinois camping and fishing trip
Join the website and Share your Adventure! Our goal is to share everyone's stories, tips, tricks, hacks and all outdoor adventures! Become a part of the talk now! With over 100 contributors and 2000 stories already published, there is something for everyone here at my724outdoors.com!
Check out our Forums and contribute your stories! https://my724outdoors.com/forum/
Come on in, we are glad to have you! Grab a TSHIRT or some swag and show your love of my724outdoors! Hit our store! https://my724outdoors.com/shop/
JOIN OUR FACEBOOK GROUP! https://www.facebook.com/groups/my724outdoors
Drop us an email with your adventure, attach some pictures or a Youtube link to your video. We will share it for everyone to enjoy! Email us at [email protected] today!