Norfork Lake is ON FIRE with BIG FISH! with Hummingbird Hideaway Resort on Norfork Lake and my724outdoors.com!
I did a lot of looking for bait this morning. The bait that I found 2 days ago, in very shallow water had moved. I checked a few coves and creeks but didn't find much in them. I was getting ready to check out some deep water when I received a text from one of my guests with a photo of a striper and the location. The bait and fish had moved back to an area where we were fishing a week ago. I headed to this area and immediately found lots of big white bass and some crappie close to a bluff wall in 50 – 60 feet of water. The fish were suspended 15 to 30 feet deep. This area was just inside of a main river channel swing. I caught a lot of whites and a crappie using the Tater Shad – white trash. I started to move around looking for striped bass and saw some big schools of fish. This time it was feeding hybrid bass. Again, I caught fish vertical jigging the same Tater Shad. Joe, the guest that had texted me was trolling Flicker Minnows in 60 to 70 feet of water and getting his bait down to about 30 feet. Joe & Bart landed 3 or maybe 4 striped/hybrid bass along with a few whites.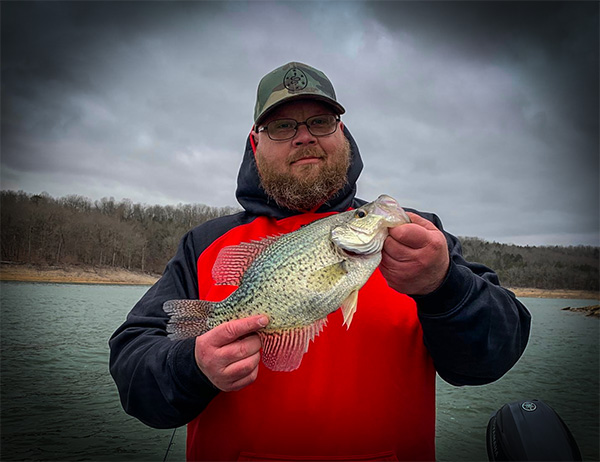 Bart was fighting a fish on the Flicker Minnow when they saw a huge school of fish under them, so Joe dropped a Tater Shad, and they had a double on very quickly. They found the fish around 8AM, but more than likely they were feeding at daybreak. A couple of other guests have been crappie fishing all week long and have been having a fantastic time. They strictly catch and release. The largest crappie they have caught so far was 15-inches and it was almost 2 pounds. They have found crappie in many different types of areas and have also landed white bass and largemouth bass. John and I caught bass right before sunrise on a Little Dipper swimbait. John and Tim caught quite a few largemouth in the dark along with a couple of striped bass. With this latest cool front, the surface lake temp has dropped a few degrees and both the main lake and creeks were around 50 degrees this morning. The lake level is currently 553.10 ft MSL.
Norfork Lake is located in north-central Arkansas and extends into south-central Missouri. With up to 550 miles of completely un-commercialized shoreline, the lake has a varying water level that fills the basin with up to 30,700 surface acres of pristine water within its 40 mile length.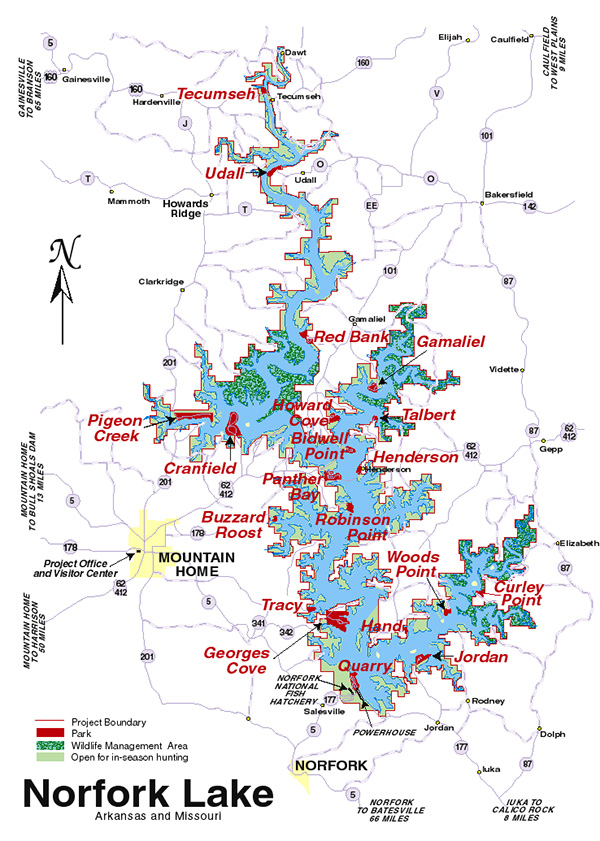 Join the website and Share your Adventure! Our goal is to share everyone's stories, tips, tricks, hacks and all outdoor adventures! Become a part of the talk now! With over 100 contributors and 2000 stories already published, there is something for everyone here at my724outdoors.com!
Check out our Forums and contribute your stories! https://my724outdoors.com/forum/
Come on in, we are glad to have you! Grab a TSHIRT or some swag and show your love of my724outdoors! Hit our store! https://my724outdoors.com/shop/
JOIN OUR FACEBOOK GROUP! https://www.facebook.com/groups/my724outdoors
Drop us an email with your adventure, attach some pictures or a Youtube link to your video. We will share it for everyone to enjoy! Email us at [email protected]com today!
MORE PFGFishing fun!
STINK BAIT for Crappie? NOPE!
Southern Illinois camping and fishing trip