The Tennessee Safari Park Adventure Is Absolute Fun! with The Carpetbagger and my724outdoors.com!
The Drive Through Tennessee Safari Park, Walk Through Safari, Wild Animal Preserve, Animals Up Close and Personal, Concessions (open seasonally and weather dependent), Gift Shop and a Children's Petting Safari.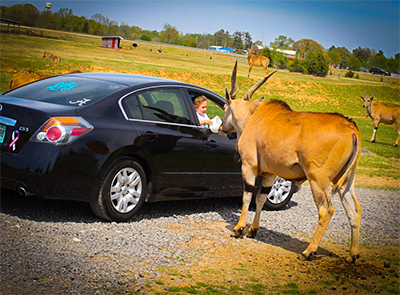 Experience all the above and more at your Tennessee Safari Park! Drive through the 5.5 miles of Safari Roads in your own car and interact and feed animals as you make your way through our park.
After your journey return to the Walk Through Zoo, relax and enjoy refreshments at our concessions (open seasonally and weather dependent), children can enjoy our playground area, pet the baby goats in our petting zoo and visit the gift shop. An experience you will never forget, Africa at your back door!
WE ARE OPEN EVERYDAY (except Christmas Eve , Christmas Day and Thanksgiving day) weather permitting. Please call during inclement weather.
Join the website and Share your Adventure! Our goal is to share everyone's stories, tips, tricks, hacks and all outdoor adventures! Become a part of the talk now! With over 100 contributors and 2000 stories already published, there is something for everyone here at my724outdoors.com!
Check out our Forums and contribute your stories! https://my724outdoors.com/forum/
Come on in, we are glad to have you! Grab a TSHIRT or some swag and show your love of my724outdoors! Hit our store! https://my724outdoors.com/shop/
JOIN OUR FACEBOOK GROUP! https://www.facebook.com/groups/my724outdoors
Drop us an email with your adventure, attach some pictures or a Youtube link to your video. We will share it for everyone to enjoy! Email us at [email protected] today!
Some More Camper Reviews!
MORE PFGFishing fun!
STINK BAIT for Crappie? NOPE!
Southern Illinois camping and fishing trip