Marathon Key's Old Seven Mile Bridge Open to Recreation with FloridaKeysTV and my724outdoors.com!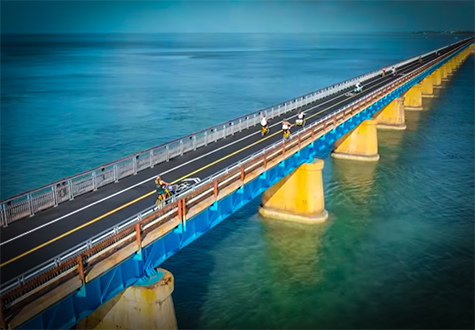 Florida Keys visitors and residents are again cycling, walking, running, rollerblading and watching sunrises and sunsets along a section of the famed Old Seven Mile Bridge that parallels the Florida Keys Overseas Highway in the Middle Keys. Nicknamed "Old Seven," the oft-photographed 2.2-mile span reopened Jan. 12, 2022, to pedestrian recreation. The date marked 110 years since the bridge's original debut as the centerpiece of railroad magnate Henry Flagler's Florida Keys Over-Sea Railroad, which connected the Keys with each other and mainland Florida for the first time. The 2.2-mile span serves as the gateway to historic Pigeon Key, a tiny island nestled beneath the "Old Seven" that was once home to about 400 workers constructing the railroad.
Join the website and Share your Adventure! Our goal is to share everyone's stories, tips, tricks, hacks and all outdoor adventures! Become a part of the talk now! With over 100 contributors and 2000 stories already published, there is something for everyone here at my724outdoors.com!
Check out our Forums and contribute your stories! https://my724outdoors.com/forum/
Come on in, we are glad to have you! Grab a TSHIRT or some swag and show your love of my724outdoors! Hit our store! https://my724outdoors.com/shop/
JOIN OUR FACEBOOK GROUP! https://www.facebook.com/groups/my724outdoors
Drop us an email with your adventure, attach some pictures or a Youtube link to your video. We will share it for everyone to enjoy! Email us at [email protected] today!
Some More Camper Reviews!
MORE PFGFishing fun!
STINK BAIT for Crappie? NOPE!
Southern Illinois camping and fishing trip