Get Ready to Fish with my724outdoors.com!
It's the dead of winter and we are all dreaming of warm days and fishing! Well this weekend you can get ready to fish! The Let's Go Fishing show kicks off today in Collinsville Il! Here are the details!
The 28th Annual Let's Go Fishing Show will be held on January 7-9, 2022 at the Gateway Convention Center in Collinsville, IL. After taking a year off in 2021, we are dedicated to making the next Let's Go Fishing Show into the biggest and best show yet. We cannot wait to see all of our loyal exhibitors and dedicated fans at our "fishing family reunion!"

– RODS & REELS
– TACKLE & BAIT
– GEAR & GADGETS
– FISHING BOATS
– GUIDES & RESORTS
– FREE SEMINARS
– PRIZES
– LIVE DEMOS
– EDUCATIONAL DISPLAYS
– KIDS ACTIVITIES
– FREE FISH POND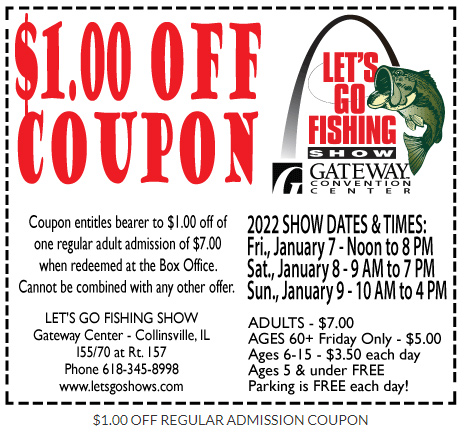 SHOW DATES & HOURS:
Friday, January 7 from 12:00 PM until 8:00 PM
Saturday, January 8 from 9:00 AM until 7:00 PM
Sunday, January 9 from 10:00 AM until 4:00 PM
ADMISSION FEES:
ADULTS – $7.00
AGES 60+ Friday Only – $5.00
Ages 6-15 – $3.50 each day
Ages 5 & under FREE
Parking is FREE each day!
The Let's Go Fishing Show is a Show dedicated solely to anglers. Folks who love to fish come from Central Illinois, Southern Illinois and Missouri.  For 28 years, Gateway Convention Center is the home to the Let's Go Fishing Show and is located in Collinsville, Illinois, which is just 9 minutes from downtown St. Louis, Missouri.
MORE PFGFishing fun!
STINK BAIT for Crappie? NOPE!
Southern Illinois camping and fishing trip